When I built my HTPC earlier this year, I replaced the elderly graphics card within the old chassis I was using with an ASUS 4350.  I don't pretend to be anywhere near an expert on graphics cards, but the limited research I did led me to believe that this card would be ideal.  Relatively cheap, passively cooled and delivered full HD via HDMI.
What I did not know then, but what I discovered following installation, is that this card does not output sound via HDMI without some driver jiggery-pokery.  You would see a message similar to this one in the Sound properties dialog within Windows.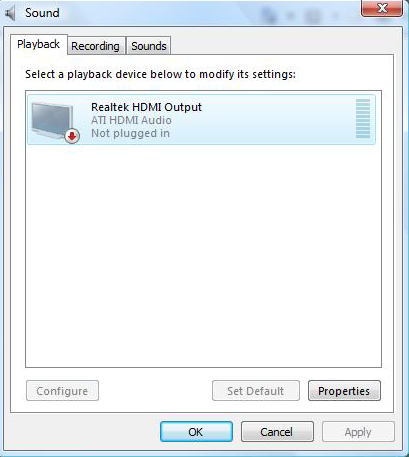 In short, neither the supplier driver nor the updated Catalyst drivers from AMD/ATI include the relevant Realtek audio driver.  The solution is relatively simple: you download and install the latest HDMI audio driver from Realtek.
This is what I did earlier this year and my HTPC worked without a hitch until I mistakenly updated the AMD/ATI Catalyst drivers through Microsoft Update which promptly broke it.  Needless to say, I hadn't written down how to get this working so I had to find out all over again from scratch.
Disclaimer: It is not generally recommended to download and install drivers directly from OEMs.  Your first port of call should be the company that manufacturered the product you are using (in this case ASUS).  If you follow these steps, you are doing so entirely at your own risk.
(Optional) Head over to AMD and grab the latest Catalyst drivers for the card (http://support.amd.com/us/psearch/Pages/psearch.aspx?type=2.4.1&product=2.4.1.3.38&contentType=GPU+Download+Detail)
Go to Realtek' High Definition downloads site (http://www.realtek.com.tw/downloads/downloadsCheck.aspx?Langid=1&PNid=14&PFid=24&Level=4&Conn=3&DownTypeID=3&GetDown=false).
Check/tick the option Iaccept to the above and then click on the Next button.
Scroll down the list ofWindows drivers until you find the entry ATI HDMI Audio Device (it will be in red text).  Click on one of the three download links to the right to download the driver.
There are a couple of possible gotchas when downloading
Last time I tried, none of the US download locations worked.  The links just redirected back to step 2 above
The downloads are FTP transactions that can take upto several minutes to stat.  So don't worry if nothing happens immediately.
Once downloaded, install the driver.  You should be prompted to restart your computer once completed, if not, do so anyway.
Upon restart, sound may still appear to be disabled.  The trick here  is to pull out the HDMI connection and then replace it.  Once this is done, the HDMI sound connection should be detected and work.
The moral of this particular story:  Sometimes, it is necessary to document things you do with your home systems.